Electric / Diesel Earth Compactors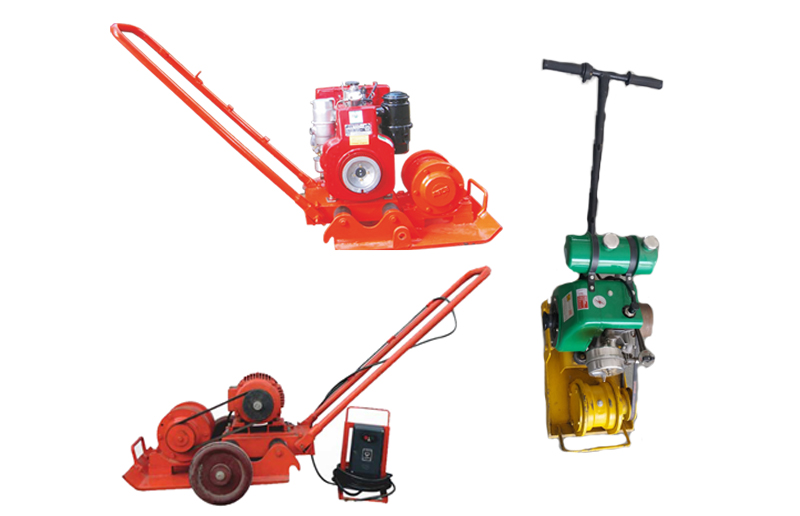 Description :
Earth comparators are designed for operation in typically difficult construction sites Each model features and thick base plate and frame of robust modular desgin.
Features :
High working speed at low cost.
Maximum depth effect .
Easy to operate and less maintenece.
Easy amplitude & frequency change,suits different soil..
High Compaction Capacity.
Thurttle speed control .
Centrifugal clucth pulley.

Wheels for easy transportation.
Light in weight.
Robust Design.
High gradient capacity.
self propelled.
Vibration proof steering handle.
Maintenance free accept routing oil changes & air filter .
Optional rubber mat or sheet can be filled at base for locker finish paving styles and fragile materials.
Specifications :
| | | |
| --- | --- | --- |
| Technical Details | A/VC 10 (Petrol Engine) | A/VC 40 (Electric/Disesl Engine) |
| Compaction Capacity | 1/2 Ton | 4/5 Ton |
| Impact Force (App.) | 850 Kg. | 3000 Kg. |
| Vibration Frequency (Approx.) | 2100 p/min. | 2000 p/min. |
| Depth effect depending upon type of soil | 6 inch | 12 inch |
| Travel Speed | 60 ft. p/min. | 65 ft. p/min. |
| Gradient capacity | 20% | 20% |
| Compaction Plate Size | 23"x12" | 25"x20" |
| Working Area (Per hour) | 4300 sq.ft. | 5500 sq.ft. |
| Total Gross Weight | 55 kg. | 182 kg. |
| Direction of Travel | forward | forward |